Soils Map, Legend, and Soils Description
The soils map of the ranch area below comes from the NRCS web site, websoilsurvey.nrcs.usda.gov/app/. The areas with different types of soils are separated by yellow lines and are labeled with two or three digits followed by a letter (e.g. 114C) which indicates the type of soil (see the Map Unit Legend below the map).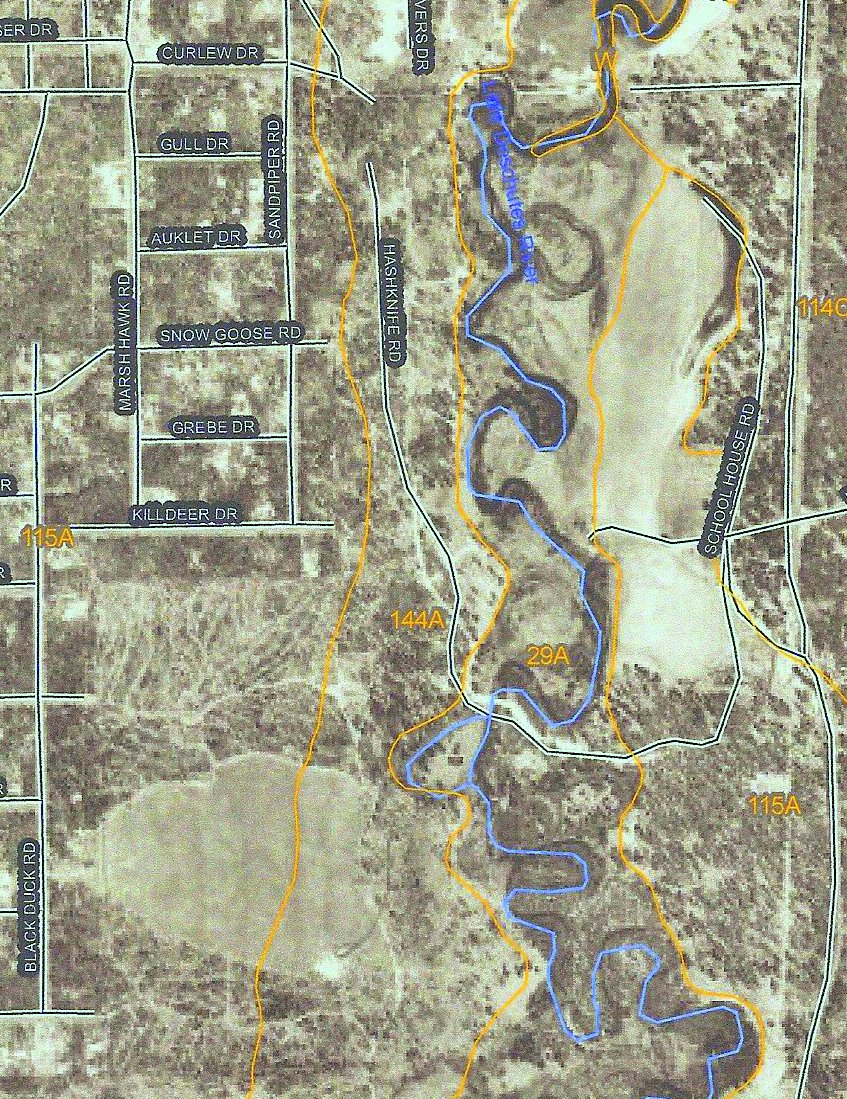 Map Unit Legend
29A - Map Unit Symbol 29A corresponds to Map Unit Name Cryoquolls on a 0-3% slope. Cryaquoll is found on the flood plains along the river. These soils are more than 60 inches deep to bedrock and are poorly drained and very poorly drained. They have a dark brown silt, silt loam, or gravelly loamy sand surface layer; a very dark gray, mottled sandy loam, loam, silt loam, or loamy sand subsoil; and a very dark gray sand substratum. A seasonal high water table is at the surface to a depth of 24 inches below the surface. These soils are subject to rare flooding.
114C - Shanahan loamy coarse sand on 0-15% slopes. This soil is found on Lots 1 through 8 and on the land east of South Century. Because this coarse-textured soil has insufficient anchoring capability, trees are subject to windthrow. Increased erosion, loss of nutrients, and water repellency may result from fires that have moderate fireline intensity. Because of the low fertility of the subsoil displacement of the surface layer should be minimized. Because of the moderate susceptibility to compaction, designated trails should be used.
115A - Shanahan loamy coarse sand, low, on 0-15% slopes. This soil is found both in the southeastern corner of the ranch and along the western edge of the ranch, including most of the pasture west of the barn. Management considerations are similar to 114C above with a heightened susceptibility to severe frost or frost heaving that can damage or kill seedlings.
144A - Sunriver sandy loam on 0 - 3% slopes. This soil lies under the barn and arena area and under Lots 15 through 21. Management considerations are similar to 114C with the added consideration that the seasonal high water table restricts the use of equipment to midsummer when the soil is dry or to midwinter when the soil is frozen. Houses may require robust ground water drainage systems.
For more extensive descriptions see "Soil Survey of Upper Deschutes River Area, Oregon" published by the National Resources Conservation Service and available on the web.
Copyright 2004-2010 The Vandevert Ranch Association. Neither the Association nor its members guarantees the accuracy or completeness of information or representations on this Web Site. Buyers should obtain definitive information from their real estate agent.