Wildflowers on the Ranch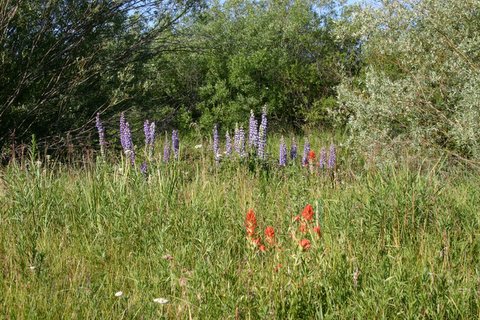 We've found 33 species of flower growing wild on the ranch and we're still finding more. Among the most common and prominent are iris (in May and June), lupine (several species), Indian paintbrush, and yarrow. The photos in the galleries listed below were all taken on the ranch and appear with at least the genus of the flower and the location and date it was photographed.
Blue and Purple Flowers
Red and Pink Flowers
White Flowers
Yellow Flowers
Many thanks to Sarah Garvin, Botanist at the Sunriver Nature Center, for identifying most of the flowers in the galleries. Others were identified by Sue Manley, formerly of the Nature Center, and Reid Schuller, Plant Ecologist. The best book on local flowers is the Peterson Field Guide, Pacific States Wildflowers, by Theodore F. Niehaus and Charles L. Ripper. Many of the wildflowers found on the ranch are common to Oregon, Washington, and Northern California. Most can also be found in Sunriver and elsewhere in the area of the Upper Deschutes River.