Recreation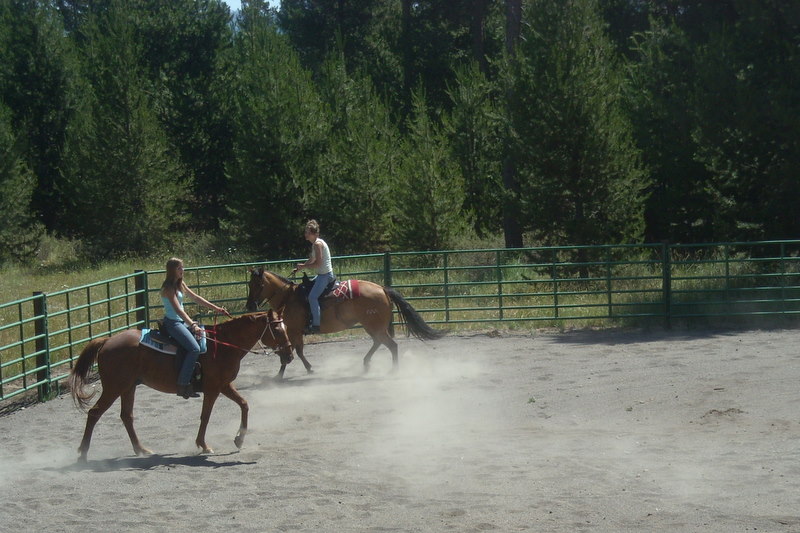 Vandevert owners can ride horses, canoe on the river, fish in the lake, and play golf - all in one day and all within a mile of their front door. The ranch is a paradise of recreation for children and adults, both On the Ranch and Near the Ranch.
Winners of the Sixteenth "Annual" Vandevert Scramble, held on the Crosswater Golf Course on July 3, 2018, were as follows:
Team Winners - Lowest Score:
Keith L., Julie K., Betsy W.
Longest Drive Men (#2) - Scott O.
Longest Drive Ladies (#10) - Kathy F.
Closest to the Pin Men (#13) - Scott O.
Closest to the Pin Ladies (#7) - To be recollected
See past year Scramble Winners.
Also see Athletic Records set on the ranch.
Read a collection of poems inspired by the ranch.
Excursions
Big River Kayak Party September 29, 2012
Gold Lake Kayak Kamikaze July 26, 2012
Little Deschutes Kayak Trip August 14, 2011
Tyee Creek August 1, 2011
Thompson Reservoir Kayak Party July 28, 2011
La Pine Frontier Days Parade July 4, 2011
La Pine Rodeo July 2, 2011
Waldo Lake Kayak Kamikaze July 29, 2010
Waldo Lake Kayak Kamikaze July 30, 2009
Dalles-California Highway from Vandevert Road to Weed, California
Tumalo Farms Goat Ranch and Artisan Cheese Production