Interactive Map - Click on Points of Interest in the Map to Learn More
(Also see 1951 Aerial Photos)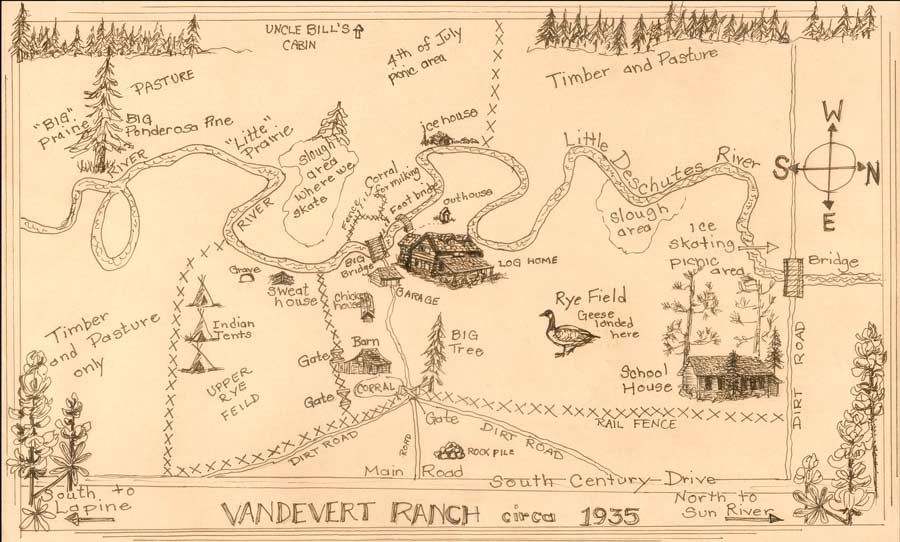 This map is drawn from a sketch by Grace Vandevert McNellis. Click on a location in the map (e.g. 4th of July picnic area) to learn more about the structure or area. If the map doesn't fit on your computer screen, see the smaller, non-interactive version. If the map above doesn't fill most of your screen, left to right, see the larger, non-interactive version. There are printable versions of the map for 8 1/2" by 11" paper and for 8 1/2" by 14" paper.
For more on Vandevert Ranch history, click on one of the links below:
Area Chronology - A brief chronology of natural and historic events in the general area
Family - The family of William Plutarch and Sadie Vandevert
Harper School - Attended by generations of Vandeverts, moved to ranch in 1929
Modern - The modern history of the ranch
Stories - Stories from the history of Vandevert Ranch
Vandevert Ranch history top level page
Copyright 2004-2010 by T. Haynes & G.V. McNellis. Neither the Vandevert Ranch Association nor its members guarantees the accuracy or completeness of information or representations on this Web Site. Buyers should obtain definitive information from their real estate agent.