A Chronology of the Vandevert Area
13,750 B.C. – Earliest evidence of human habitation in Central Oregon appears in the Fort Rock area (below).

7550 BC – Construction of one of the oldest domestic structures in the western hemisphere at Paulina Lake.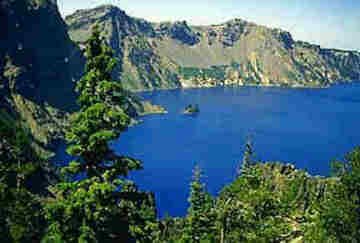 5650 BC – Mt. Mazama erupts, forming Crater Lake (to right) and depositing pumice over a wide area to the north and east. Test borings on one Vandevert ranch home site show a layer of Mt. Mazama pumice up to two and a half feet deep.
5050 BC – A flow from Lava Butte fills the channel of the Deschutes River with over one hundred feet of lava, damming the river at present day Benham Falls. The resulting Benham Lake, now gone for thousands of years, covers almost all of Vandevert Ranch.
November 1826 – A Hudson's Bay trapping party led by Peter Skene Ogden passes through Newberry Crater, almost certainly viewing, from a distance, the future site of Vandevert Ranch.
December 1843 – John C. Fremont and his U.S. Army expedition explore Central Oregon.
1851 – Thomas Clark names Pilot Butte. His family is the first non-Indian party to camp on the future site of Bend. Thomas's nineteen year-old sister, Grace, recuperates from severe wounds received in an Indian raid which cost the party the lives of Grace's brother and mother, another man, and all the horses and cattle they were driving to Oregon from the East. In 1853, Grace marries her father's partner, Jackson J. Vandevert and, in 1854, gives birth to William Plutarch Vandevert, founder of Vandevert Ranch.
April 25, 1867 – Teanamad, frontier raider, rustles his last 25 head of cattle from a stagecoach station. Known to the whites as Chief Paulina, Teanamade abandoned treaties, killed settlers, defeated the U.S.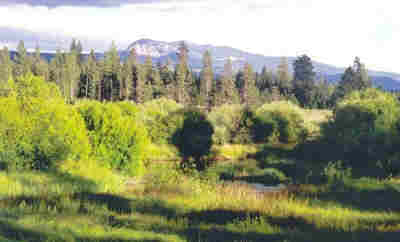 Army and other Indians, and drove almost every white resident out of north central Oregon. On April 26, while driving a stagecoach, James Clark, brother of Grace Clark, spots Teanamad and recognizes him only as the man who earlier burned Clark's ranch. With Howard Maupin and at least one other man, Clark tracks Chief Paulina to his camp on Trout Creek, Jefferson County, and shoots him dead. Today there are more locations in Central Oregon named for Chief Paulina than for any other person, including Paulina Peak (right) which overlooks Vandevert Ranch.
1892 – William P. Vandevert founds Vandevert Ranch and builds a log house, The Old Homestead, on the Little Deschutes River. The ranch becomes a hay farm, a cattle ranch, a dairy, a poultry farm, a stagecoach stop, and a U.S. Post Office.
1904 – Bend is platted by its founder, A.M. Drake, who sees great opportunities for irrigation nearby and seeks advice from Bill Vandevert, whom he had met earlier in Arizona. Bend is incorporated January 4, 1905.
October 5, 1911 – The railroad finally reaches Bend from the north, making logging operations feasible in the area.
1916 – Shevlin-Hixon and Brooks-Scanlon lumber mills begin operations in Bend.
December 13, 1916 – Deschutes County is created from a portion of Crook County. Bend is named the county seat.
1922 - A timber-crib dam is built across Crescent Creek, the only significant tributary of the Little Deschutes, and forms Crescent Lake. The lake provides water storage for the Tumalo Irrigation District, downstream of Bend.
November 1, 1926 – The Dalles-California Highway (U.S. Hwy 97) is completed.
May 1928 – The Great Northern Railroad is extended south from Bend to meet the Southern Pacific at Chemult and directly connect Central Oregon with California by rail for the first time.
December 4, 1942 – Camp Abbot, an army engineer replacement and training center, is built in the Sunriver area. Closed in 1944.
1953 - Claude Vandevert (senior) builds a new house, now known as the "Guest House" next to the Homestead.
1956 – Crescent Lake Dam is rebuilt (below).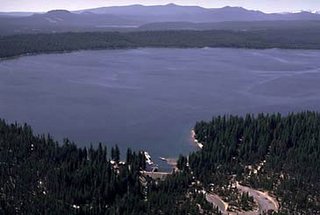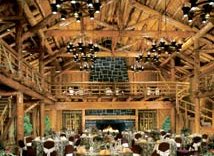 1968 – Sunriver opens as a major resort. The Camp Abbot Officer's Club, renamed The Great Hall (above), is renovated for meetings and banquets.
1970 - Claude Vandevert (senior) sells the ranch to Leonard Lundgren. The ranch is eventually purchased by Jim and Carol Gardner in 1987 who restore the Homestead and begin plans to develop the ranch as a community of luxury homes.
June 30, 1991 – Newberry National Volcanic Monument is dedicated.
1992 - Vandevert Ranch begins its new life as a luxury gated community with a commitment to honor its environment and its history.
2008 - After building a kennel, a storage facility, and a riding arena in earlier years, the ranch owners deepen and widen Rainbow Lake and extend the berms that screen the ranch from South Century Drive.
2011 -Vandevert - The Hundred Year History of a Central Oregon Ranch by Ted Haynes and Grace Vandevert McNellis is published to favorable reviews and enthusiastic readership.