Common Areas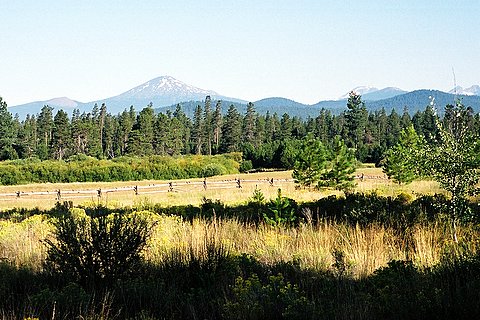 The 350 acres held in common provide ranch owners with privacy, a close relationship with nature, and unique opportunities for recreation. Every home borders a hundred acres or more of ranch meadow, forest, lake, or river. Owners can walk or ride on eight miles of ranch trails without meeting another soul.
Six acres are dedicated to the horse barn, corrals, riding arena, and kennel. The teepee camping area lies in a hidden meadow of about an acre, a gazebo overlooks the river, and the expertly restored one-room schoolhouse sits on less than a quarter acre.
Woodlands cover 170 acres of the common area. The Little Deschutes River and its floodplain encompass 91 acres. A large central meadow covers 38 acres and the horse pasture, near the barn, encloses 30 acres. The surface area of trout-stocked Rainbow Lake is about 3.5 acres. See an aerial photo of the ranch taken in 2011 (pdf).
For more information visit the pages below and the Environment and Recreation sections of this web site.