Family Letters
When William Vandevert's son, Claude, married Pearl Catlow, he married into a large family of Catlows and Peters. This included Pearl's Aunt Linnie who lived in Iowa where the family was from. It also included Pearl's brother Charles, who lived in Portland and visited the ranch often. When Claude and Pearl's daughter Grace Vandevert McNellis reconnected with her Iowa relatives and visited them in 2007, they had a surprise for her – a box of letters from Pearl and Charlie that the family had kept for over seventy years. The letters were especially meaningful to Grace because her mother had died when Grace was only thirteen.
Among much family news the letters contained descriptions of life on the ranch that are excerpted below. (Comments by the editor are inserted in parentheses.)
From Pearl, October 26, 1924
Dear Aunt Linnie,
…We have been having such wonderful weather this fall and we only hope it will continue to be the same until December. Last week we butchered a beef and since then we have been living high. It was such a good one but now I have to salt some down, can some, and make a lot of mincemeat. I guess we will do it next week.
Harry (another of Pearl's brothers in Portland) sent me some flowers last week and also Dad. So now I have flowers everywhere. That is the one thing I miss, the flowers. We have sent all of our house plants down to the doctor's office (in Bend). We can't keep them here because it gets too cold. A couple of plants have frozen already…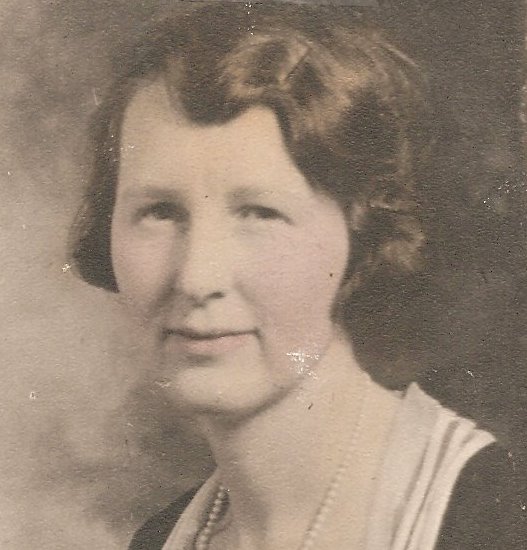 (At left, Pearl Marie Catlow Vandevert)
From Pearl, June 17, 1926
My Dear Aunt,
…Claude painted the kitchen floor for me today. He did the dining room and the pantry floor the day before yesterday. So we are all upset and will be until Saturday…It is supper time but we will only get a hand out tonight as I can't go in the kitchen…
From Pearl, August 12, 1926
Dear Aunt Linnie,
…You ask about our crops? They are so poor that it was hardly worth while to cut it. They got four loads (of hay) off of this place to 63 loads last year…We had a freeze the 17th of June that killed everything. And, of course, the water was very low this year so we couldn't irrigate much on the other two places. They can't irrigate this place so had to watch everything dry up. We have enough hay here for the milk cows this winter but the boys have started to look for hay to buy already. Two years ago they paid out $1,700 for hay but I hope not this year. They have about 220 cattle, counting calves, but they want to sell at least a 100 head this fall.
We haven't had any rain since May and maybe before as I can't remember when it did rain last.
From Pearl, January 16, 1927
My Dear Aunt,
…In one of your letters you spoke of putting up lots of fruit…Claude's sister and I put up over 200 quarts and since then have made mince meat, apple butter – also apple, quince, and crab apple jelly. I did feel awfully proud of it all but we have made an awful hole in it since…
(Gracie McNellis reports "In the early days (1890's until late 1910 era) the family drove to the Willamette Valley and picked fruit. They probably drove two wagons over and back and filled them. They sometimes canned the fruit there, but also brought a lot back to be done on the ranch. There were relatives in the Salem and Eugene area and that is where they went.
"In later years, and I'm not sure just when, they bought their fruit in Bend. I would think it was after the railroad came (1911) and maybe they even drove over to Shaniko some before that.
"In 1941, my Dad, Mary Jean, and I drove over to Salem and picked the fruit ourselves and brought it back. I remember so well as we had just purchased a 1941 Chevrolet Sedan and thought it was wonderful!
"Also, anyone coming over from Portland area would bring us fruit by the boxful - - and then they helped my Mother do the canning!! Where there was a will, there was a way!! We canned peaches, applesauce, pears (100 quarts one year when I helped my Mother) and apricots.)
From Charlie, December 6, 1929
Dear Aunt and Uncle,
…While we were at Pearl's we went up to a lake about 20 miles away and caught 125 trout. They were all about 14 inches long and sure were good. Pearl had 20 there for Thanksgiving. There were 17 there for the other three days. You can see that she had a houseful. During the day it was real warm – about 85 degrees. At night it would get down to 8 or 10 above zero. There was about three inches of ice on the river. The river is only about 100 feet from her kitchen door. They are getting a good price for their cattle this fall. Beef is high and they sold some old cows that were fat and brought over $100 (each). The year-old beef brings about $25 which they sell for baby beef.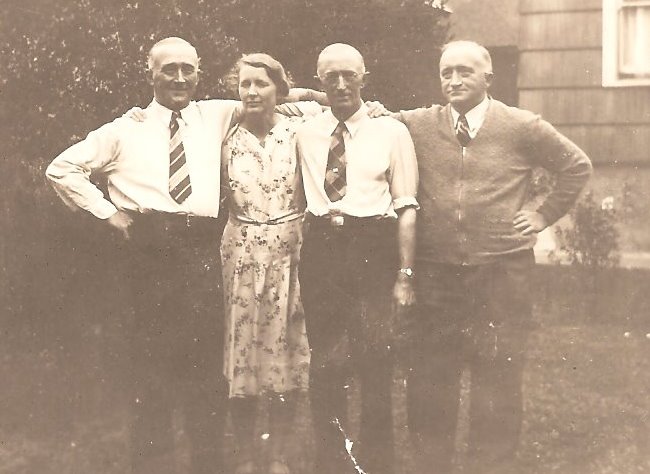 (At right, the Catlow siblings about 1938. From left to right Frank, Pearl, Charlie, and Harry.)
From Pearl, winter 1930
Dear Aunt Linnie,
…Yes, we got a good price for cattle this winter. They butchered them and got 17 cents a pound for them, which we thought very good. They have butchered about 30 and have 4 more to do. They have about 170 head of cattle and they surely are fine looking ones. We have had enough hay so far and hope we won't have to buy any. Yes, one can certainly use plenty of money, even one counts over the pennies. We hope to not have to do that in a few more years. But we are happy so that is all that really counts.
We have been having Sunday School this winter but the last two months the minister has been gone and I hope he comes back soon. He is preaching in California now. There are only 16 of us that go but I want to keep it up as it is so far to go to Bend every Sunday…
From Charlie, February 1930
Dear Aunt and Uncle,
I will be like the bear come out of his hole in the spring and look alive by writing a letter. We were very near as bad as the bear this winter as it was so cold here we sure did stay inside where it was warm. Someone just dropped one of those Iowa blizzards right down on top of us and it lasted for two weeks. The Willamette River froze over, also the Columbia. Two men drove an auto across the Columbia at Vancouver and back again.
It was pretty cold. It got down to about 10 degrees above (in Portland). Pearl said it reached 38 degrees below zero at their place. That is cold enough for anyone.
I must stop for a few minutes so I can hear Amos and Andy on the radio. Do you hear it also?...
From Pearl, January 12, 1931
Dear Aunt Linnie,
…Xmas week we didn't do much but play with the kids and talk. It seemed such a relief to not have the teacher here so we made the best of it. She came back on the 3rd. She isn't a bit like the other teacher that stayed here two years ago. She was so sweet and was just like one of the family. She still is for that matter as she comes back real often and stays a few days with me. But this teacher you can't be the same to. She doesn't talk much, then usually some kind of catty remark. So naturally we are not as sociable…but Claudie is doing fine at school and that's what counts. Another thing: this teacher is so lazy it is hard for her to move. I have never seen anyone so lazy before and that's going some. She does play the phonograph for Gracie but that is all she ever helps with. If she would just pick up the dishes or wipe them I am afraid I would be sick from the shock of it. For two weeks I know she never made her bed. Now isn't that awful. I do her washing and clean her room and have done most of her ironing. But told her the other day she would have to do her ironing as she was supposed to do it. I guess that is enough about our boarder…
From Pearl, July, 1931
My Dear Aunt,
…We have had some wonderful rains and now are having the hot weather. It must have been terrible back there. One thing we have the river at our back door and we can cool off. Claude and I just took Gracie in and she had so much fun. The kids go in about three times a day…
…Claude is busy building a wagon bridge across the river. We have a foot bridge but haven't had another one for years as we use the county bridge about a half mile from here (presumably the bridge near the schoolhouse)…
From Charlie, October 23, 1932
Dear Aunt and Uncle,
…Claude was down to Portland not long ago. He brought down a carload of cattle but did not receive much for them as stock is down with the rest of all commodities. He received an average of $4.75 per cwt. (hundred pounds) while two years ago he received over $8.00 for stock that were not as good…
We made a trip up to Breitenbush Hot Springs over Labor Day. You can drive all the way to the springs now although the road is quite narrow part of the way from Detroit. It had been about twelve years since we were up there the last time and there has been a big change since that time. With the autos being able to drive in there it does not seem like the old place we used to go to when we had to pack our grub in on our backs…
From Pearl, June 24, 1932
My Dear Aunt Linnie,
…We have had such a wet spring and now with the hot weather our hay crop sure looks fine. Now if cattle would go up just a little then we would be sitting pretty. Cream is so low that it doesn't pay to take it to town – 11 and 13 cents a pound and we have gotten 60 cents a pound for butterfat. Eggs are so low you can't feed chickens and make anything from eggs. Of course we have enough chickens for our own use. Claude has about 40 little turkeys and our goose is supposed to hatch next week.
From Pearl, November, 1932
My Dear Aunt Linnie,
…I have canned so much this fall, even borrowed jars to finish canning some of my fruit. Fruit was so cheap I just had to can. I had a girl for a month to help me and it was lots of help during canning season…
How did you like the election (Franklin Roosevelt was elected for the first time)? We didn't like it at all but we hope that most of the people knew best. At least we are hoping so. Our state went wet (to end prohibition and allow the sale of alcohol) but we were very sorry. Maybe the people will tire of it soon…
Claude got four ducks today. Wish you could have some as they are so good. I cook them in my Dutch oven and they are so tender then. Have had some venison that was so good.
The boys only had a carload of cattle to sell this fall. Then they got a good buy on 47 head so have over 100 head to feed this winter. But they have plenty of hay. Claude has about 70 head of ewes, the first he has had in a good many years. But he says cattle for him, sheep are too much bother. Have to put them in a corral every night so the coyotes won't get them. We are in the timber you might say…
I think the extent of my giving will be mostly letter writing this year. One can't sell cream for much. Turkeys are only 18 cents and we have 20 up to fatten for next week then more for Xmas. It seems when one has a lot of something then prices drop. But our turkeys are nearly all clear profit as they run all the time and we don't feed them much until fattening time. There is plenty for them to get outside. They look fine.
We have had so much rain lately but we are glad it isn't snow. Last year we were feeding cattle at this time.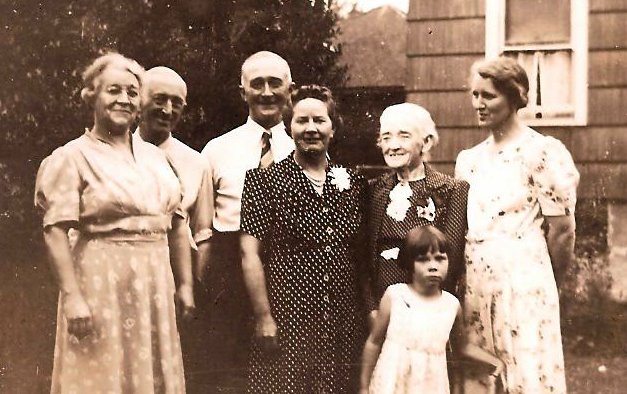 (At right, Catlows with Aunt Linnie Peters. From left to right: Edna with her husband Charlie, Frank and Bertha, Aunt Linnie, and Pearl. In front, Mary Jean.)
From Charlie, November 7, 1933
Dear Aunt and Uncle,
…We went up to Pearl's for Thanksgiving. We left here on Wednesday and returned on Sunday. We all had a fine time with lots to eat and plenty of milk and cream to drink. Pearl and family are all fine. Although it was a bit cool in the evening the days were fine and warm. It was two degrees below zero on Wednesday night and two above on Thursday night. The river by their house was froze over and was strong enough to skate upon near the shore. Of course two of the boys tried it too often and fell in getting wet. Two years ago when we were up there at this time we had good skating as the river was frozen several inches thick.
It is 220 miles from our place to Pearl's but with the good roads and faster cars it does not take long to go there. We were six hours going up but it took us seven and a half to come back as we ran into a snow storm crossing the mountains by Mt. Hood and it slowed us up considerable. There was about ten inches of snow through the mountains.
The farmers up there are not making anything as the price of everything is so cheap. Claude and his brother sold a carload of cattle a short time ago here in Portland and only received $3.75 per cwt. (hundred pounds) for them. For a ten gallon can of cream they get $3.25 as compared to $18.00 a few years ago. They did sell some turkeys but the price was only 18 cents a pound dressed so they did not get rich on them. With prices so low and the coyotes taking their share of the sheep and turkeys there is not much left to be put in the bank. And if you put it in the bank it will close and you will lose what little you save.
From Pearl, January 10, 1935
Dear Aunt Linnie,
…The boys had to sell so many of their cattle this fall as we didn't have much hay. It doesn't pay to buy hay for cattle at the price they are now. It makes one sick to sell such fine stock and get so little. I hope cattle go up pretty soon…
We had butchered about 10 (?) days before Xmas so Claude and I canned 25 ½ pints of beef and 38 pints of vegetable soup. It took four days and I was too tired to do anything else. I was so tickled to get it finished as the meat and soup came in so handy…
From Pearl, October 4, 1936
Dear Aunt Linnie,
…After all our ado about taking the children to school (in La Pine) we had to have school in our little school after all. The evening you left we heard of two other children. Then Sunday we heard of four more. So that settled it about going to La Pine. We couldn't haul them all.
We got a young man just from normal and we like him so well and the children are all crazy about him. Gracie especially so. He is about 23 years old and so much like Maude's boy. He is giving Claudie his high school work and so far Claudie is doing real well. Anyway, we don't have those long drives all the time.
Haven't even started to get caught up with my work yet and am still swamped. Counted my jars and had over 380 jars of everything. I only had about 100 when you were here so you can see I have been on the jump. One week put up over 120 jars of jelly and jam besides canning lots of other things…Have about a box and a half of pears to can then think I will quit.
Claude has helped Bill (his brother) three days with hauling hay and threshing. We all went to the county fair last Friday and had a real good time. I had to stay in the car a lot as Mary would get tired walking around. Of course, Gracie liked the merry-go-round the best…
Claude has been working the last two nights as a flag man on the highway. They are repairing a railroad crossing so have two flagmen. Seems strange to be home alone. Of course Dad is here. He worked most of yesterday then rushed home for some heavier clothes and some lunch and then stayed all night.
From Pearl, January 3, 1937
My Dear Aunt,
…The children are doing very well in school and like their teacher so well. He hasn't stayed here so far but he may want to now on account of the snow. It is so hard to have anyone when it is real cold as we have no way of heating a room upstairs…
P.S. January 8 – This letter has had a terrible time trying to get mailed. We have been snowbound. Others have brought our mail sometimes so I hope I can send this today. Claude will have to walk out though. We are having severe cold. The last two mornings it has been 40 below and it really is chilling.
From Charlie, October 31, 1938
Dear Aunt Linnie,
…We had a letter from Pearl a short time ago. Claude had just finished his haying. They did not get as much as last year but expected that they would have enough to carry them through the winter…
Isn't this war awful? I would have thought that they would have had enough of it the last time but I guess they don't know when they have had enough. I only hope that we can stay out of it. But that was what we thought the last time.
From Pearl, June 4, 1939
My Dear Aunt Linnie,
…We are having such good weather lately and it is so beautiful here now. Two weeks ago we had such wonderful rain and our crops are looking better than ever before. It looks like it might rain again at any time. For a while it was terrible, especially so about 40 miles north of here. It was dry here but not as much so. We had lots of snow and that helps so much. Of course, so many don't like snow during the winter. But I always think what good crops we will have next year.
From Charlie, August 30, 1939
Dear Aunt Linnie,
…Claude, Gracie, and Claudie dropped in on us last Thursday and stayed here (in Portland) until Saturday when they left for the beach. The children had never seen the ocean so Claude was going to take them down the coast a ways and return to Salem on Monday to see the state fair. Claude brought his niece down here to take the train back home to Indiana. She is only 10 years old but she made the trip out here last year and again this year alone.
From Pearl, 1941
Dear Aunt Linnie,
…Claude finished shearing his sheep yesterday and tomorrow wants to start cutting rails for some new rail fence. Wants to get a lot of new fence every year. Then his worries will be over for a while. They usually last 30 years and sometimes more without repairing unless a tree falls on them. Then Claude says someone else can worry about the fences…
We got a bargain on a Kohler plant (electricity generator) so just got it. Still can't hardly believe we have them. It is a 1,500 watt and 110 volt plant so we can run anything with it. Are hoping we can get a second hand refrigerator for this summer but are not sure. In time, can have a water system and all. Have only had it running since the 25th of May. Will get a different motor for my washing machine and an iron at once. This plant, as you may know, doesn't have batteries. They are so expensive.
We didn't have as much snow as usual last winter but lots of rain and it is still raining real often. Makes us feel so good. Claude had hoped to get a pumping outfit to irrigate with but couldn't so we are glad for so much rain. Our rye looks better than ever it seems.
Guess I better put my dinner on then call the girls. They are playing with their dolls across the river and have so much fun together.
From Charlie, June 18, 1944
Dear Aunt Linnie,
…Claude is working at Camp Abbott which is just a few miles from the ranch. I guess he makes more money than he would on the farm.
From Charlie, December 22, 1946
Dear Aunt Linnie,
…Katherine Catlow was married last month in Bend. We did not get to go but Frank and Bertha went. They stayed a few days at the ranch where Frank and Claude did some hunting for ducks. I guess the old ranch is just not the same if not worse than the last time you saw it. We have not been up there for a long time as it does not seem the same with Pearl gone.