Ann Markel Forbes
Ann Markel Forbes was a friend of the Vandevert Family and her history is intertwined with the Vandeverts in multiple ways.
Ann Markel came to Bend from Illinois in 1909 with her sister, Gertrude, to become one of only two teachers at Bend High School. The Bend Bulletin of April 5, 1960, in an obituary for Harriet Dolsen Vandevert, reported that Ann chose to move to Bend by sticking a pin in a map. Harriet Dolsen was raised by Ann's mother after Harriet's own mother died in the Iroquois Theater fire in Chicago in 1903. Harriet followed Ann to Bend and later married Dr. Clint Vandevert, a long-serving and popular doctor in Bend and one of the eight children of William and Sadie Vandevert, the founders of Vandevert Ranch.
In July 1910 Ann accompanied Thomas William, Claude, and Kathryn Grace Vandevert, along with others, on a camping trip to Odell Lake. Ann clearly enjoyed the trip and enjoyed writing about it. (See her story of the trip.) In April 1914 she married Vernon A. Forbes, an attorney who became one of the first elected legislators from Deschutes County when it was formed in 1916. He drowned while fishing in Crescent Lake on July 7, 1918. Ann raised her son, Vernon, and became a real estate agent in Bend. She was active in the Presbyterian Church, the American Legion Auxiliary, and the Red Cross. Ann also traveled extensively in Europe, Mexico, and the United States. She died in 1955 and is buried with her husband in Pilot Butte cemetery.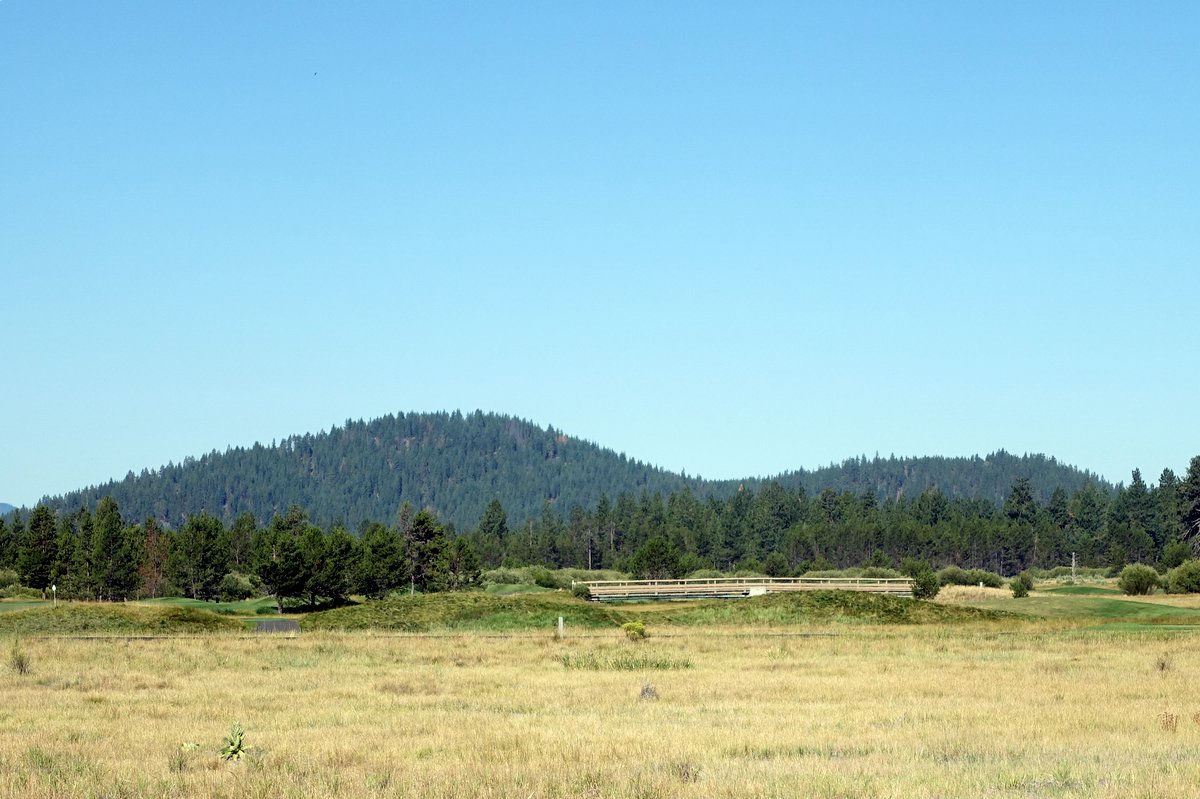 The USGS map that includes Vandevert Ranch is named "Anns Butte" after a double-peaked butte northwest of the ranch. The butte acquired its name because Ann homesteaded a site near the butte. At left is a view of Anns Butte from the Crosswater golf course.
Grace Vandevert McNellis remembers Ann well. "I know the house she lived in on Oregon Ave. in Bend. My Aunt Mittie lived with her at one time—rented a room from her—and they were great friends. I stayed with Ann a couple of times (with my Aunt Mittye) and she was a wonderful lady! She would have been about my Dad's age, I think. She came to the ranch once in a great while and my mother and I stopped to visit her almost every time we went to Bend. It was an easy walk from Bond Street to her house."
You can listen to a sample of a 1953 KBND radio interview of Ann Markel Forbes here.