Dr. George V. Vandevert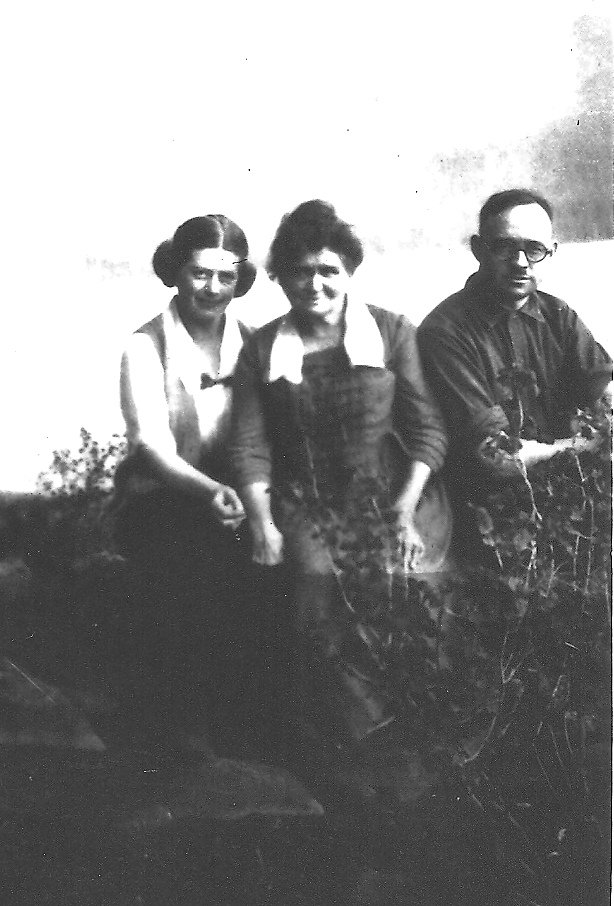 George was in Bend High School's first graduating class in 1909. He attended Willamette University. After working for a year in the office of Brooks-Scanlon Lumber Co. in Bend he suffered a ruptured appendix. The relief he got from surgery convinced him to become a doctor. He studied at University of Oregon Medical School before interning at Good Samaritan Hospital in Portland and doing post-graduate work in surgery at Columbia-Presbyterian Hospital in New York. He married Olda Marie Paulsen in 1922 and had three sons - Vincent, Alan, and George Jr. He practiced medicine in Bend with his brother Clint until he moved to Piedmont, California, in 1930 and set up a practice in Oakland. George had an office on Telegraph Avenue and a second office at Eighth and Adeline streets in West Oakland where most of his patients were black. He was quick to say, "Under the skin we're all the same color." He was on the staff of Providence Hospital (now Alta Bates) and practiced medicine in Oakland for 40 years before retiring at age 81. George appears in the photo on the left with his wife, Olda, and his mother Sadie. The photo was probably taken in 1922 or 1923, quite likely at Crater Lake.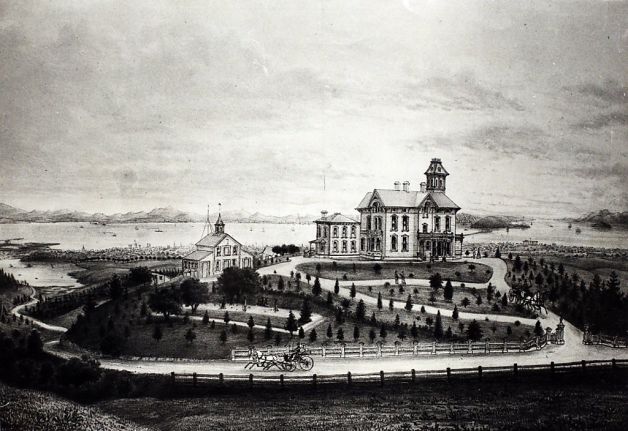 George's son, Vincent, grew up in a house at 354 Wildwood Avenue in Piedmont until his freshman year at Stanford. It was near one of the first houses ever built in Piedmont, a house built in 1878 for Isaac Requa by the same contractor who built the Palace Hotel in San Francisco. (See photo - courtesy of the Oakland Public Library) Vincent says, "It was in a parlor of this home that I learned how to play Monopoly a few days after Christmas in about 1936. I went their with my neighbor, Jim Hobart, who was a classmate of Zook Todd who lived there. Zook was a scion of the Requa family. He had gotten the Monopoly set for Christmas. He later became a lawyer and a judge.
"My grandfather, W. P. Vandevert, herded sheep near this very same hill around 1872-3 before going to Texas. He told me that in 1933 when he visited us on his return from the 50th reunion of the Holbrook, Arizona Lodge of Masons. On that visit that he taught me two things: how to play Solitaire, and how to tie a hangman's noose with 13 loops. It was while he and I were walking around the neigborhood that he recognized the surroundings, including the creek near our house and the other one in Piedmont Park in back and to the right of this house." Vincent Vandevert died in early 2015.
Isaac Requa made his fortune in the silver mines of Nevada. When he had a phone installed in his house in 1878 he invited his friends in to witness the wonder of his talking across the bay to a man in San Francisco.
George's other son, Alan, had a distinguished career after Stanford and Columbia Law School. Hired out of school in 1954 by the distinguished San Francisco law firm of Pillsbury, Madison and Sutro to help them defend Standrd Oil Company of California (Chevron) from a major federal ainti-trust suit, he quickly distinguished himself and represented Standard and other major clients for a decade until he was hired as assistant legal counsel of Weyerhauser Timber Co. About three years later he succeeded to the senior counsel position where he remained until retirement about 1992, After arranging for the privately held company to go public, he also held the position of Corporate Secretary. In retirement he and Margaret traveled extensively and cooked at the gourmet level. In his late years he and Margaret lived in a Seattle retirement facility. In addition to Margret, he is survived by his children Paul, John, and Margaret. Alan died in Seattle on July 1, 2014.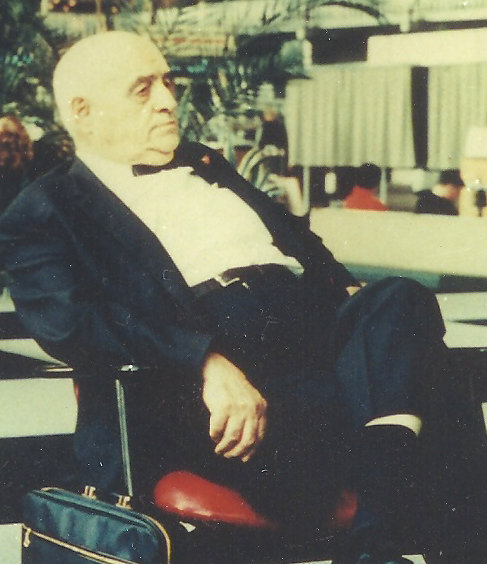 Dr. Vandevert appears as a older man in this photo, apparently taken in the lobby of an hotel.